S-57 charts are compatible with TZ Professional v3 marine navigation software
Having charts that are up to date really makes all the difference in assuring the safety of all those at sea which is why having S-57 weekly updated charts is of the utmost importance. On top of this some industries now demand that the s52 standard by the International Maritime Organization is respected. Thanks to the standardized S52, the different objects within the marine charts can be universally understood.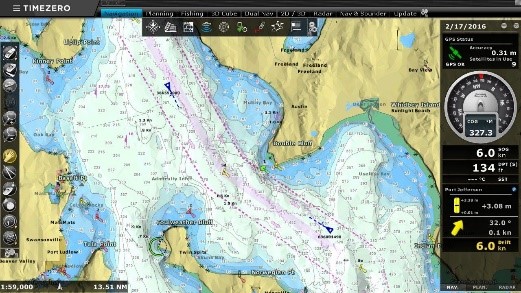 S-63 Charts Module
The S-63 Charts which also keep to the S52 standards are also available as a module. In some locations of the world, S-63 charts are the equivalent and provide the most detailed information possible updated the most frequently and stay within the internationally accepted norms. If you are looking for S-63 charts then visit our S-63 module page.
Find out more about the S-63 module
Easy to import and display charts
Thanks to the intuitive interface designed specifically for TZ Professional v3, importing data such as charts works exactly as you want it to. Here you will find a list of the latest S-57 charts available for download based by region, state and coast guard districts. These charts cover most of the US coastline and are updated weekly.
Follow this guide to learn how to open up S-57 charts. It takes you through the steps so that you don't spend time looking around for the answer. Please note that this feature is exclusively available for TZ Professional v3.
International Maritime Organization (IMO)

IMO stands for the International Maritime Organization and is part of the United Nations. It has the purpose of regulating shipping. The goal of IMO is to create a structure in which shipping can become safer, more environmental, clarify legal matters, increase maritime security and make shipping more efficient.
In the case of S-57 Electronic Navigational Charts, it works to ensure that vector charts produced by hydrographic agencies conform to their to IHO specifications for S-57.
IHO stands for the International Hydrographic Organization and is a sub division of the International Maritime Organization. Its sole role is focus on ensuring that the oceans, seas and other navigable waters are being surveyed and charted to the international standards.