TZ Navigator for sailboats
Navigating using a computer onboard to connect your instruments with charts and the power of TZ Navigator software will take you further and get you there safer.
Go further, safer!
Sailing is an experience like no other, however, it is not without its risks which is why your security must always come first. TZ Navigator offers tools to assure your security while at sea.
Your marine charts are what you rely on to know where you can sail and that is why TIMEZERO offers updated charts at least once a year.
The AIS/ARPA feature provides another layer of security by identifying boats in your vicinity and also their current heading and speed so that you can plan ahead.
Sailing without a work overload is important, especially knowing what type of weather conditions you are happy to sail in and what winds you know your sails can handle. By checking the weather forecasts that are provided free of charge for unlimited access within TIMEZERO software, you can check the weather for the exact location, for the day(s) of your trip and see how it evolves.
Planning your sailing trip has never been easier and as efficient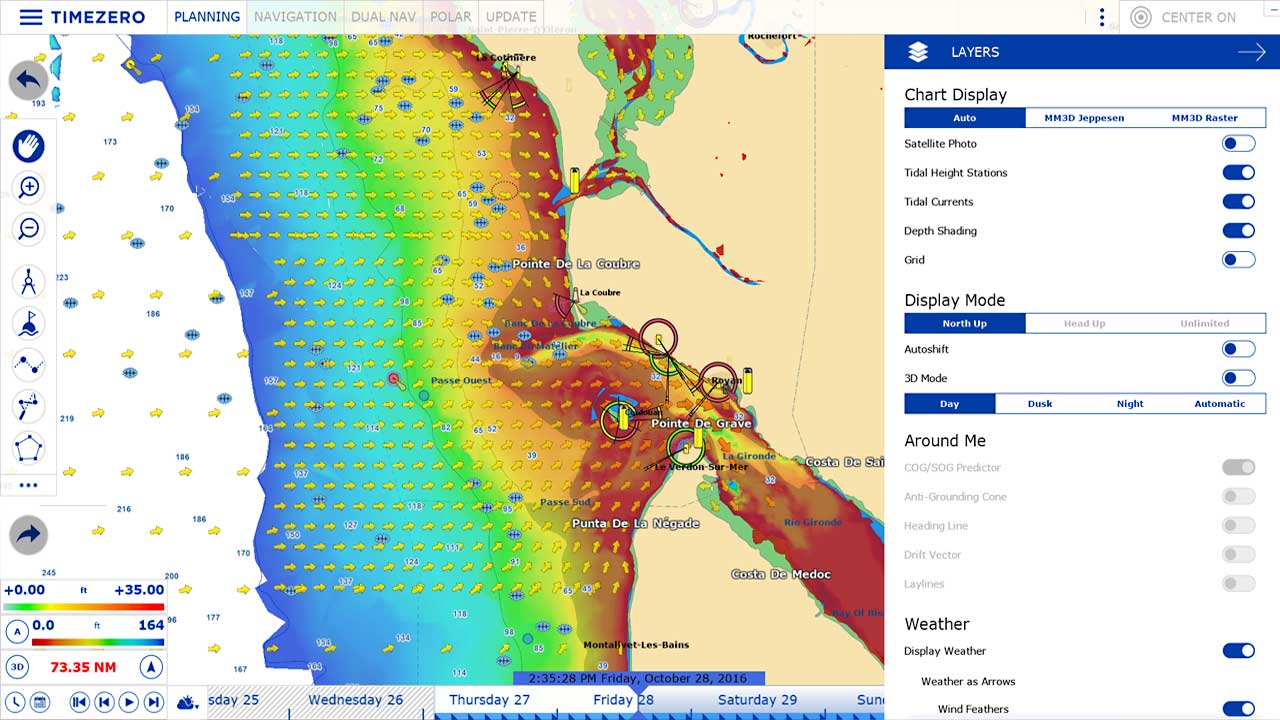 Marine navigation systems have been a revolution to the everyday sailor. Even for those who aren't used to using computers in their day to day, TZ Navigator has been designed with these users in mind. To provide a software that is designed to be intuitive to the sailor.
TZ Navigator provides all your navigation needs in a practical, functional, and organized way. Simultaneously see your current location as well as your planned out route to the minutest detail.
Managing your routes is primordial. That is why having a technology that allows you to have them displayed on your TZ Navigator software is of the upmost importance. On top of this, TIMEZERO software provides a color coding for routes so that when you are navigating near coastline or anywhere that the depth of the water is low, your TZ Navigator will be able to alert you to this fact.
Performance software
Marine navigation software allows for a calmer, more enjoyable trip in complete security. TIMEZERO security give you extra performance.
Do you want a software that will help you confront whatever the elements throw at you? TIMEZERO provides the latest generation chart engine innovation so that going from one zone to another while keeping an eye on your geographic location is possible without any waiting time.
Take your sailing to the next level! The Weather Routing module will allow you to do just that. It uses the combination of the weather forecasts for the day(s) of your planned trip with the polars that are unique to your boat. With these two factors, the Weather Routing module provides the quickest route possible. On top of this, the Weather Routing module now includes professional features such as the ability to choose a different path based on risk of weather change to minimize the margin of error.
Photofusion combines the land with your charts. By overlaying satellite photos onto your charts, you can see the best of both worlds. This is a great feature when coming into new ports or habors, or simply just navigating the coastline.