A navigation tool packed with performant features for racing
TZ Professional is both ergonomic and high performing meaning that it is the software you want for professional and amateur racers alike.
Its strength and flexibility make it the perfect tool to be able to change strategy at any moment depending on the competition in the world of ever changing events. The Weather Routing module and Position Report are the two key elements designed for racing. It is ideal for almost every race, providing advanced settings for the demanding sailor yet that are very intuitive.
TIMEZERO software was first designed for racing purpose. For more than 30 years, it never stops evoluting. But today, criteria remain the same: Ergonomic, Precise & Performant.
The Weather Routing module works as an addition to the Safety Route Planning feature by getting you from point A to point B in the quickest time possible using the algorithm that to this day remains one of the key innovations in marine navigation software.
The two major components that go into making the Weather Routing Module are the weather forecast feature and the unique speed that each boat can go based on the polars of that boat. It therefore uses the forecasted wind, currents and waves with the polars to identify the fastest route by carrying out calculations.
For racers it now includes a risk variable, a feature developed while working closely with Michel Desjoyeaux, two time Vendée Globe winner. This feature displays zones with high risk, such as a dramatic changes in wind speed and direction. It does this using an easy to identify shading spectrum, from which a decision can be made to launch an alternative route.
For recreational users, the route can be adjusted to avoid areas of wind of more than a certain speed and wave size, for example 25 knots and waves of more than 2 meters. So you can optimize your travel time while ensuring your safety from adverse weather conditions at sea.
Position report
TIMEZERO software can now automatically create a Position Report file that can be sent manually, or synchronized between multiple vessels using Dropbox.
Even if the boat only has a partial internet access, the Position Report text file can contain up to 100 positions that will be synchronized as soon as an internet connection becomes available.
This allows TIMEZERO to display all the previous reported positions of that day even if there is no internet access at the time a position report is added to the list.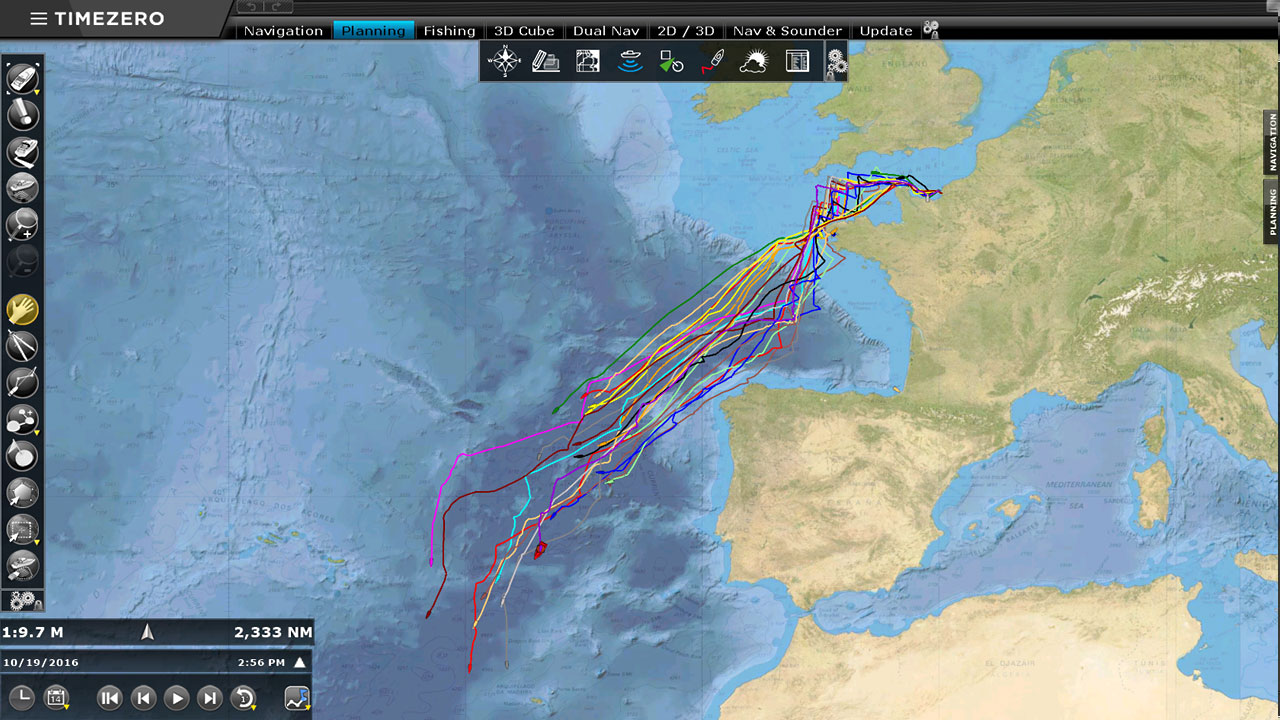 How does TIMEZERO give you an advantage?
Fleet tracking using an online sharing tool: To update vessel positions, TIMEZERO regularly checks the content of the folder dedicated to fleet tracking. Therefore, this folder should be created and shared using any online sharing tool like Dropbox or Google Drive.
As soon as one of the boats can access the internet the folder containing the fleet tracking files is updated on all synchronised PCs. The folder is automatically checked by TIMEZERO and vessel positions are then updated on the chart.
Automatic generation of the Position Report file: TIMEZERO now automatically creates the Position Report file that can be synchronized between multiple vessels using the file-hosting service of any online sharing tool like Dropbox or Google Drive.
TIMEZERO will automatically create the Position Report file linked to the boat ID in the tracking data folder and will update it based on the user pre-set frequency.
Fleet tracking display: You can then Show/Hide all vessels and their tracks. It is also possible to customize the display of different boats by giving them a name and a color that will be used to display the target and its corresponding track. A list of vessels becomes available from the TIMEZERO lists as the position history of each boat.