Professional Software for Sport Fishing
TZ Professional provides the perfect platform for Sport fishing professionals and amateurs looking to hone their skills by using the most advanced all in one software. TZ Professional is designed to hook up with compatible Furuno sounder hardware easily and in some cases wirelessly.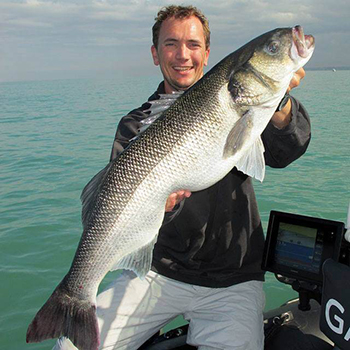 2 years ago, I took TIMEZERO software on-board (my boat), together with a GPS and a CHIRP sounder.
I caught an 8.6kg striped bass which was recognized as world record
The Sounder Module that takes you further
When connected to a Furuno sounder with digital filter technology, the sounder module allows Sport Fishing professionals and amateurs alike to spot fish easily thanks to the elimination of noise and other filters.
When a fish is spotted, it is possible to identify the last 3 minutes of data and then geolocate that fish thanks to the cursor changing color and displaying an x marks the spot icon. From here you can simply add a mark, so that you can go back whenever you wish.
Another great feature is the Accu-Fish size analyser that will make it easy for you to locate the biggest fish and allocate your time more efficiently. An Accu-Fish icon can be geo-located on the chart.
PBG Module gives you access to the 3D Cube and Fishing Workspace
A key component of Sport fishing is being able to know what the terrain looks like at the bottom of the water. Being able to customize this information is paramount. Since certain types of fish are more prevalent in specific underwater terrains, knowing the general depth isn't enough, that's why the PBG module is so important.
When connected with a compatible Furuno Sounder, it not only can provide 2D color code and customizable scale bathymetry with an extremely precise 1.5 x 1.5m resolution. It can even provide a revolutionary 3D Cube of the terrain, displaying the seafloor with amazing clarity.
The 3D cube Workspace provides a 3D viewer in which is automatically centered over the boat and can be moved in all directions so that your ability to see every inch of seafloor is now a real possibility.
Being able to read contour lines and numbers is always going to be the staple of all charts but being able to transform those lines into an extremely accurate 3D model is provides transforms the way charts can be read. It is also ideal for those who are new to Sport Fishing navigation software as it is so intuitive.
It is now possible to see the profile from any two points instantly using the Divider Profile Feature.
The PBG module also has the following options: Quick Data Recording, Advanced PBG Filters, PBG delete Tool, Bottom Discrimination and Data Rendering Optimization.