Free weather forecast service
Because no navigator will plan a route without a reliable weather forecast, TIMEZERO offers free access to updated data to all users. You can download and display weather and oceanic data in standard "GRIB" format directly from TIMEZERO Weather Wizard.
Check out how weather data are integrated within TIMEZERO software
TIMEZERO was one of the original software programs to adopt GRIB weather files to be used inside the program more than 30 years ago. Today, there are more than 40,000 TIMEZERO customers using these GRIB files.
Access to unlimited marine weather forecast service with TIMEZERO
TIMEZERO enables you to overlay weather and oceanic data directly on your chart
This weather tool makes possible:
Service available 24/7
Selection of types of data
Selection of file reception mode
Selection of days required
Customizable geographic area selection
The weather forecast service offered by TIMEZERO offers up to 16 days of forecast weather!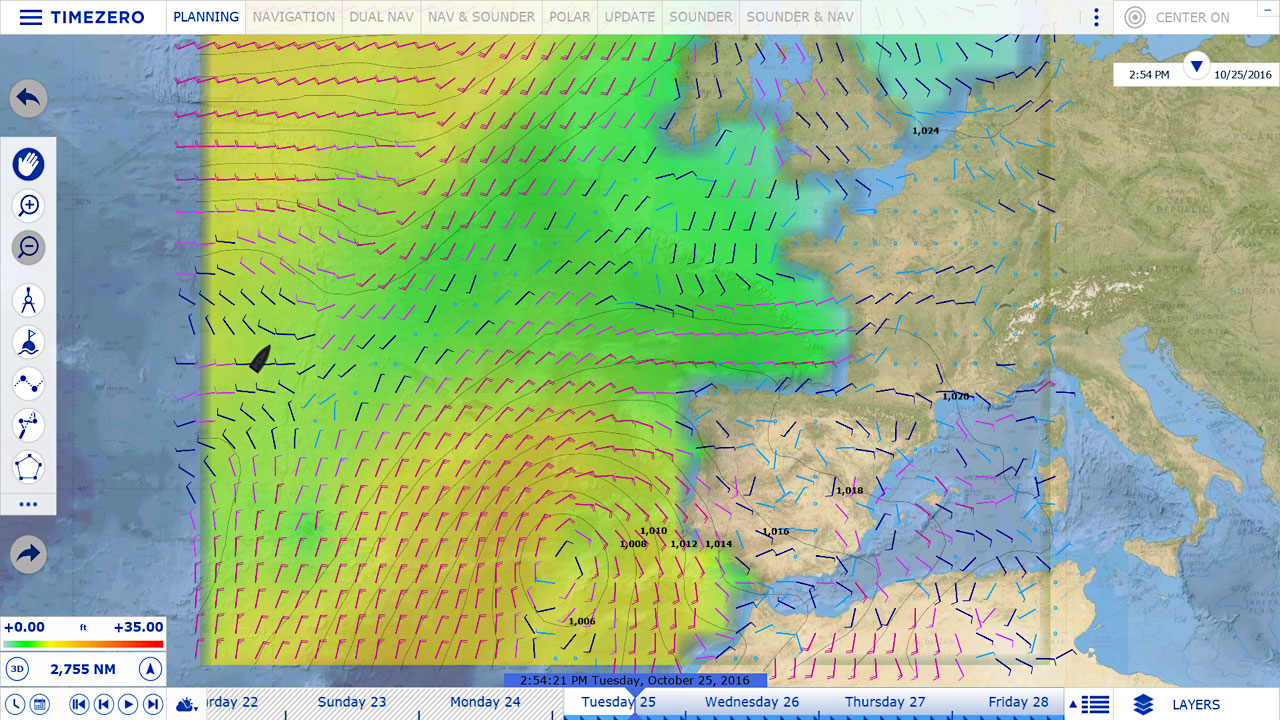 The GRIB file (General Regularly distributed Information in Binary form) is a format for weather data that can be compacted into a small file. The data includes the wind, waves, rain, pressure, air temperature, currents and more. This weather can be displayed directly in your navigation software represented in the form of isolines, arrows and a color scale.
The high level of resolution allows you to visualize the different weather data precisely in close detail at any given time, hour and date up to 16 days in advance.
World Meteorological Organisation
The WMO is an organization developed by the United Nations and has existed since 1951. Their role is to standardize the weather forecasts and meteorological measures. The GRIB files that are downloadable from TIMEZERO software are therefore in accordance with this standard. Specialized in climate and weather, operational hydrology and related geophysical sciences.